We can help you design, produce, and install large custom signs to promote your properties.
These signs serve as long lasting eye catching roadside interactions with your possible clients.
Perforated Vinyl is a terrific option for your storefront windows or any other window application! Perforated Vinyl is an alternative to Solid Vinyl because it provides a one-way visibility.
This material features a 60/40 perforated vinyl pattern, meaning that 60 percent of the film is retained and 40 percent is removed. This ratio provides enough surface area for enhanced image resolution and color vibrancy, while retaining a one-way visibility.
This film will retain the best image quality for window graphics. However it does not offer any visibility. This is perfect for when you are wanting to block out sunlight or visibility.
It is typical to have graphics printed on this film and then cut to shape. (as pictured).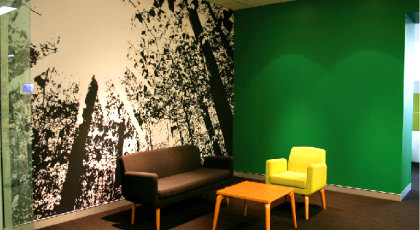 Wall graphics can seamlessly transform retail spaces, restaurants, stadiums, hospitals, corporate offices, convention centers, museums, airports and public areas into most anything and everything needed to connect with the customer, client or audience.
At Aspect we offer a all types of wall graphics from self adhesive fabric to gloss vinyl.
Canvas prints are a great way to spruce up the office or retail space. It's a great way to showcase your companies work.
We can print canvas up to 4 foot by 50 foot. Frames can be made 4 foot by 5 foot maximum.